News & Resources: October 2022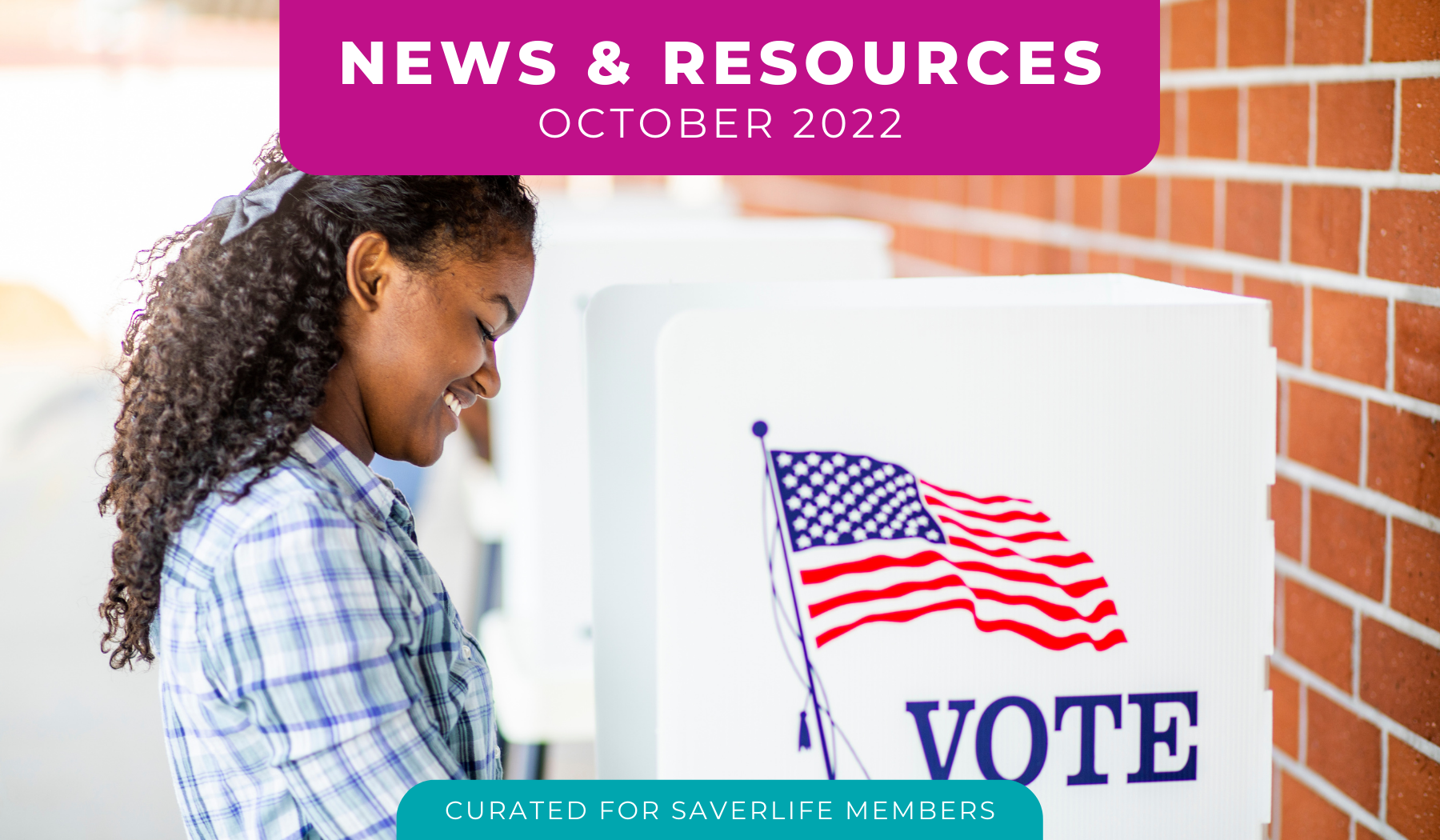 To help you along your savings journey, we are curating a list of timely financial news and resources every month.
Here are some results from a recent SaverLife Get Out The Vote (GOTV) survey:

Nearly 74% of members are already registered to vote. Want to check if you're registered? Check out our 1-stop guide.
65% are voting in-person, and 28% are voting by mail. Fun fact: did you know that vote-by-mail programs date back to the Civil War? It's true!
Nearly half of survey respondents say they plan on voting sometime in the afternoon. Want to make your plan to vote? Use our tool and make your voting plan happen, captain!

Affected by Hurricanes Fiona or Ian? Here are some helpful resources:

FEMA set up a free legal helpline for Hurrican Ian survivors who can't afford an attorney: (866) 550-2929
The CFPB put together a financial toolkit for hurricane survivors
The Disaster Supplemental Nutrition Assistance Program (D-SNAP) provides food assistance to folks who don't already have SNAP benefits. Click here to learn more and apply for relief today.

SNAP benefit recipients got a boost as of October 1, 2022: On average, families will see a 12.5% increase in benefits ✅
Your fellow SaverLife members share their plans for the midterm elections

:

Join our livestream on Tuesday, November 1st

and hear from SaverLife members themselves about how and why they're voting this year! Our very own Director of Policy, Radha Seshagiri, and Prosperity Now's Associate Director of Advocacy, Vanna Cure, will also discuss how your vote is your voice and why the midterm elections matter.

The student loan debt relief application is LIVE! You may be eligible for $10,000-$20,000 of student debt relief if you have federal student loans.

It only takes 2 minutes to complete the application – don't delay!
⅓ of eligible people nationwide have already applied for student loan debt relief – so spread the word
We're keeping an eye on the lawsuits against this student loan financial relief. But in the meantime, it doesn't hurt to complete the short application

Are you leaving money on the table? Did you claim the stimulus payments and tax credits you're eligible for? According to the IRS, Free File will stay open until November 17, 2022 so folks still have time to file their taxes if they haven't already. The IRS has started sending helpful letters to remind potentially eligible households that there's still time to claim the stimulus payments and tax credits they're due.
Free weekly credit reports are available through the end of 2023: According to CNBC, keeping an eye on your credit report can help you boost your overall credit score and be on the lookout for incorrect information that you may need to dispute. The three major credit reporting agencies will continue offering free credit reports until the end of next year. Learn more about the importance of credit reports and scores by reading our Money 101 article.
Want to get these resources in your inbox? Sign up for SaverLife and subscribe to our bi-monthly newsletter!
Take Charge of Your Savings
Earn rewards for creating a brighter future