David's Story: Only the Essentials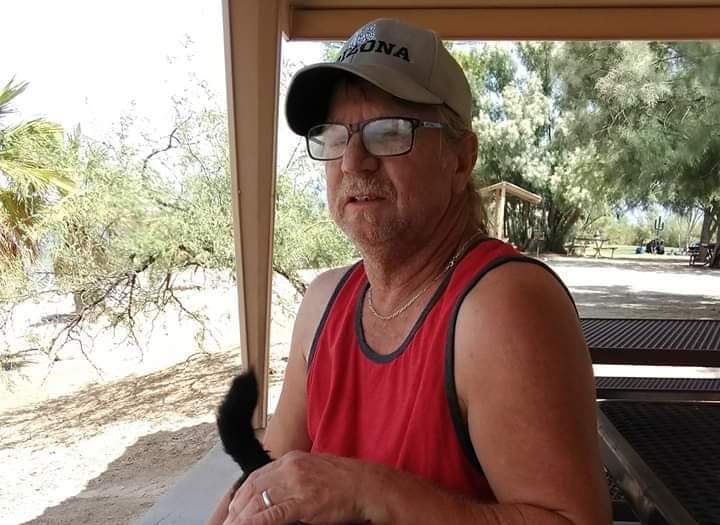 Meet David, a construction worker who lives with his wife and 11-year-old son in Safford, Arizona.
What's it like living in your town?
I've lived in Safford for 12 years now. Before then, I used to live in Iowa, then Virginia, and then Seattle. Seattle was the best place. I was in the army there.
What's your profession?
Before I was a maintenance guy, I served in the Army as an electronic device specialist. I'd fix all the equipment, from radios to flashlights. That's what I did from 1980 to 1983.
Now, I'm a maintenance guy who works for a lady who owns 30 properties. I do everything from remodeling trailers to putting roofs on apartments to painting. Things have been slowing down because everyone is staying home now due to coronavirus. Work is hard right now because one of the guys I count on is in quarantine right now, and I need him to fulfill his work before I get started on the next step. He was exposed to a family member of his who was symptomatic, so he hasn't been able to work for the past few weeks. I get $15 an hour, and my boss tries to keep me busy, but it doesn't always work out. What's nice about work right now is that 12 of her properties are located really close to me, so I don't have to go too far for work.
That's been especially nice these days because I'm driving on bald tires. I was going to get new tires as soon as I could afford them, but then all the shelter in place mandates went into effect and the shops closed. The new tires were going to cost me $600 anyway, which is about a month's worth of work.
What does a day in your life currently look like during the coronavirus shelter-in-place?
Before the world kind of shut down, I would get up and start on whatever project I had at 8am and work until 4pm.
Nowadays, I haven't been working much, and everyone is more on edge. I have a lot of work ahead of me fixing apartments and trailers, but nothing's happening because my colleague is still quarantining.
Are you struggling to pay for essentials now that you haven't been able to work as much?
Right now, I'm worried about paying rent. Thankfully, my landlord hasn't kicked me and my family out yet. I feel there's a lot more pressure on me to provide for my family than there was even a month ago.
I'm grateful I'm able to pay for things like the internet though. I'm a month behind, but the company still keeps the internet on because I can still pay for it even if it is a little late. It's been like this for a year now where I've been a month behind on paying for the internet. I've only ever had the internet shut down once when I was two months behind in paying for it.
How do your bills compare to your income these days?
Compared to two months ago, I haven't been able to pay things in full. The rent and electricity are both in one bill, and gas is another bill, but I haven't been able to pay for either.
How is your son dealing with school at home?
My 10-year-old son just started doing homeschooling this January even before other kids started distance learning. This is because he used to have a teacher that bullied him. Can you imagine that? A teacher bullying their own student. We tried moving him to another school, but it didn't get much better. That's when my wife and I decided to just homeschool him instead. My wife now teaches him while I'm at work.
What will you do with your stimulus check if you receive it?
I could pay the rent if we ever got the stimulus check. That would really help. I did my income taxes last year, but unemployment really messed me up, so I'm not sure I'll even get it.
Before I was a maintenance guy, I used to work at McDonalds. I started at $7.85 an hour and worked my way up to earning $8-$10. New management came in and they treated me so bad that they essentially forced me to quit. I think they did that so they wouldn't have to pay for the unemployment if they had let me go. The new managers knew that I was the maintenance guy, and yet they made me do things like scrub the kitchen. With the old owners, I'd take my lunch break to drop my wife off at her job because she had the better paying job, and also drop my son off at my mom's house so she could watch him while my wife and I were both at work.
When I was forced to quit, I filed for employment. Honestly, I didn't think I'd get it because I had quit. The whole process to start getting benefits took me a month and a half, and I was only on it for five months before I got the job that I have now. After going to court back and forth with my former employer, the state of Arizona decided I owed the state back $5,000 from the unemployment benefits I received.
Now I earn money under the table with the job that I have, but honestly, I'd rather pay taxes so that I can get a refund.
What do you envision your family's future?
At the very least, I want to be able to afford things again.
Three years ago, a neighbor's trailer caught on fire, and embers flew to our home and caused it to go up in flames. My truck didn't make it either. My family and I lost everything, and all that we had was the clothes we were wearing. The city wanted us to clean the burned trailer up, and I didn't really have the means to do that, but I had to.
When I owned my own property, I didn't have to pay rent. Now, we're paying rent because we're renting a new trailer. It's been a heck of a couple of years.
What does money mean to you in your life?
It doesn't mean much at all. I spend most of what I earn for my family, not myself. I don't make very much as it is because I only work about 30 hours a week.
How do you find out about SaverLife?
I found you guys on the Fresh EBT app and decided to see what it was about.
Take Charge of Your Savings
Earn rewards for creating a brighter future