Week 5 Credit Quiz Results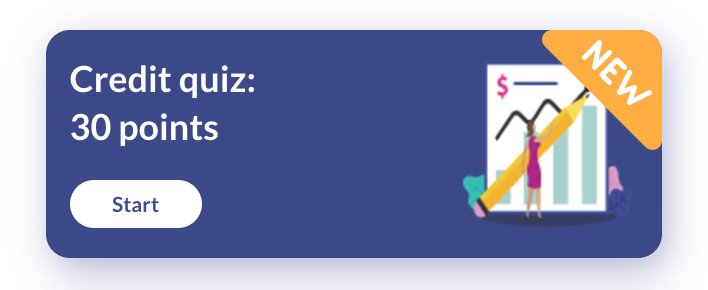 Here are the results from our fifth—and last—holiday savings quiz! Scroll through to see what members answered and take the quiz yourself.
1. I review my credit report at least once a year.

A study by the Federal Trade Commission reveals that 1 in 5 people have an error on their credit report. Review your credit report annually, so you do not financially pay for someone else's mistakes.
2. I pay my bills on time.

On-time payments are one of the most significant factors that impact your credit score. Even being a few days late can raise your interest rate and incur late fees.
3. I know my credit card interest rates and due dates.

Consider contacting your creditor and asking them to lower your interest rate. Some creditors may move your due date, and if you are late, your interest rates can go up, then your creditor may apply late fees to your account.
4. I know how to increase my credit score.

The easiest way to increase your credit score is to make on-time payments. On-time payments account for about 35% of your credit score. Consider setting reminders in your online calendar to pay or set up automatic payments.
5. I am happy with my credit score.

If you aren't happy with your credit score, you can take several steps to improve it. This involves making on-time payments and limiting how many times you apply for credit. If your low credit score is due to errors, dispute the errors to the all three credit bureaus: TransUnion, Equifax, and Experian.
6. If you miss a payment, how long will the missed payment be on your credit report?

I know you probably feel we are repeating ourselves, but we cannot overstate how damaging even one late payment can be to your credit report. It stays on your credit report for years and can impact your ability to get auto loans, a mortgage, and other credit.
7. What are the 5 factors that make up your credit score?

If you are trying to increase your credit score, there are steps you can take without having to hire a credit repair company, but it takes time. Increase your credit score by paying your debts on time, limiting how many times you apply for credit, and only using about 30% of your overall credit limit.
8. How can a low credit score hurt you?

A low credit score can impact your ability to rent or buy a home, get a car loan, or even cell phone service. A low credit score can also cost you money. You may pay more for a mortgage, have a higher-interest car loan, and pay more to turn on utilities.
9. What are the ways you can increase your credit score?

Improving your credit score starts with behavior. It's paying your bills on time and limiting applications for credit. If you are trying to build credit, consider reporting rent payments to credit bureaus using third party reporting agencies like PayYourRent.com or Renttrack.com or your utility bills through Experian or TransUnion.
10. Annualcreditreport.com is the only authorized source for the free report that's yours by law.

Aside from Annualcreditreport.com, some credit card companies and credit monitoring companies may provide free credit reports. Remember to get reports from all three creditors: Equifax, Experian and TransUnion. Credit bureaus report your credit differently. Once you have your credit reports, consider using a checklist like Nolo's to review your credit check.