Black History Month: Breaking Barriers to Build Black Wealth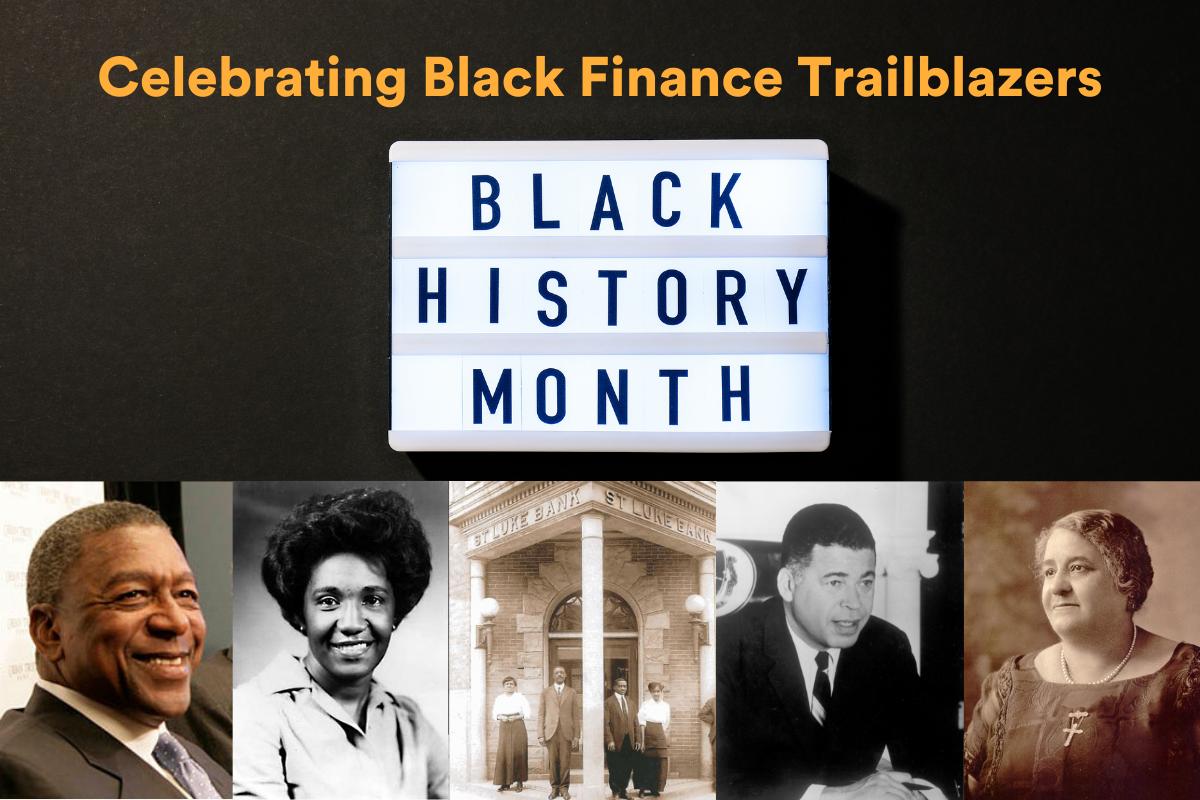 This Black History Month, we are highlighting Black financial leaders who have broken barriers to create a more equitable future. We will also explore aspects of the racial wealth gap.
Throughout history, Black people have faced systemic barriers to building generational wealth that prevented Black families from achieving financial security. Despite limited access to financial institutions, government housing loans, and higher-paying jobs, these Black trailblazers overcame great hardships to achieve their success. 
Timeline of Black Trailblazers
1849: William Liedesdorff, a former naval merchant, becomes the first Black millionaire. He acquires over 30K acres of land in California which turns out to be a gold mine, just before the 1849 gold rush.

1888: Capital Savings Bank opens in Washington, D.C. as the first Black bank.

1903: Maggie Lena Walker became the first Black woman to serve as president of a bank in the United States.

1903: Annie Malone, a chemist and entrepreneur, is the first Black woman to become a millionaire.

1953: Ernesta Procope founded the E.G. Bowman insurance company, which becomes the first Black-owned business on Wall Street.

1968: Senator Edward Brooke, the first African American to be elected to the Senate by popular vote, co-sponsored and advocated for the Fair Housing Act, which made it illegal for anyone to be discriminated against when renting or buying a home.

1970: Joseph L. Searles III becomes the first African American member of the New York Stock Exchange.

1977: Azie Taylor Morton is the first Black woman to become Treasurer of the United States.

1987: Clifton Wharton Jr. becomes one of the first Black CEOs of a Fortune 500 company, TIAA-CREF.

2001: A renowned businessman and entrepreneur, Robert L. Johnson sold Black Entertainment Television (BET) to Viacom Inc. for $3 billion.

2018: 22-year-old Lauren Simmons becomes the New York Stock Exchange's youngest and only female equity trader.

2021: Rihanna becomes a billionaire with a worth of $1.7 billion, making her the wealthiest female musician in the world.
About the racial wealth gap
Although there's been some progress, there's a nearly 10x wealth gap between the typical net worth of a white family ($171,000) and the net worth of a black family ($17,150). More about the racial wealth gap:
SaverLife's financial coaches are dedicated to teaching people wealth-building habits to help close the racial wealth gap. Learn more about what Black History Month means to our coaches and their passion for helping to close the gap.
During Black History Month, as well as throughout the year, SaverLife is committed to your financial wellness. SaverLife offers:
Money 101 resources

from financial experts to help you build wealth
A

community page

to read inspiring stories about people's journeys to change their family financial future
Savings challenges to help you take charge of your savings
Rewards to keep you motivated on your journey to financial security
Take Charge of Your Savings
Earn rewards for creating a brighter future