Saving Money to Move Out? Here's How Much You'll Need (On Average)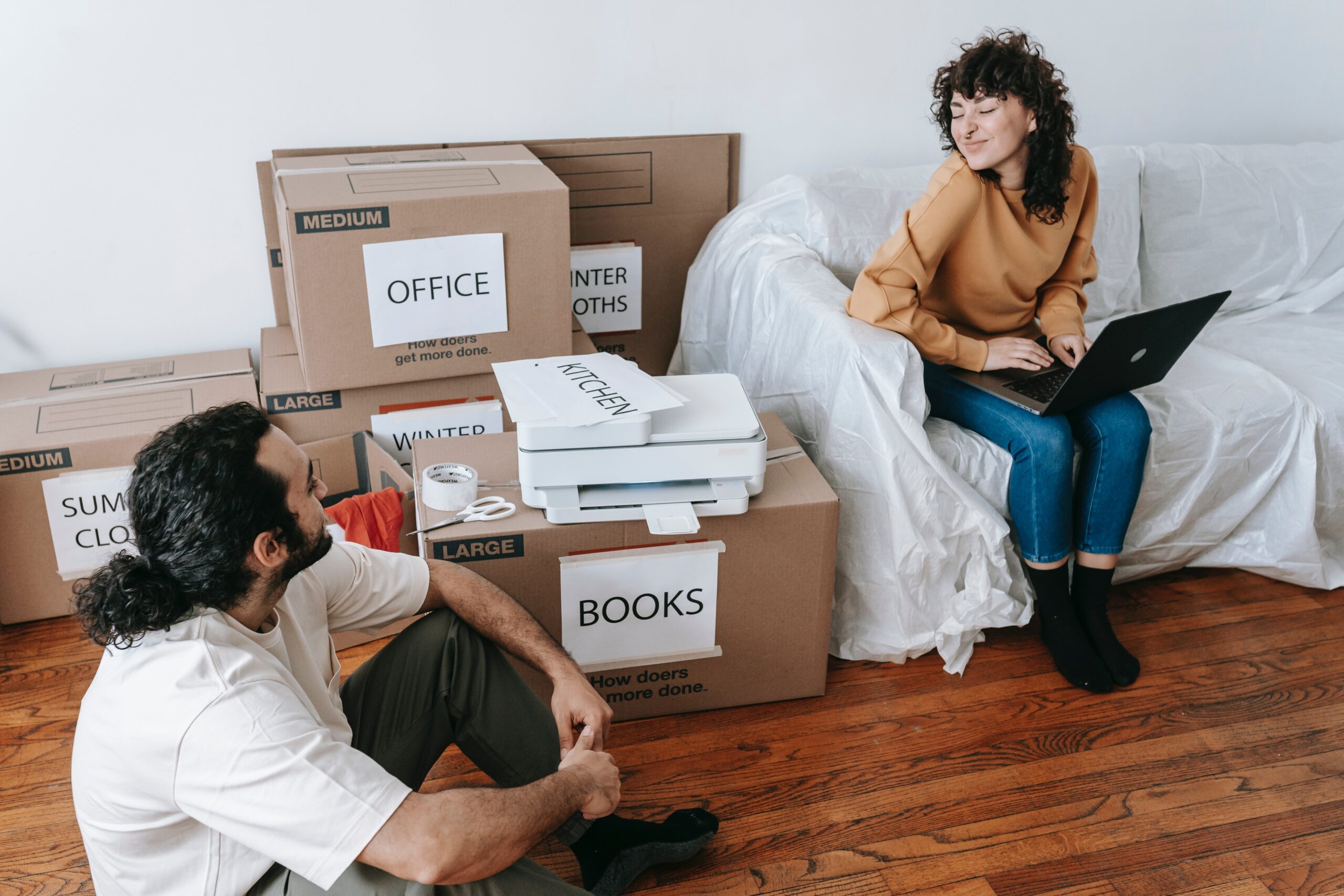 Thinking about moving?
The decision to move may be exhilarating or stress-inducing, depending on how you view it. Whether you're excited to start a new chapter of your life or worried about packing, saving money can help you avoid the stress of finances.
Here's how you can financially prepare for your next move.
Think about where you'll be moving
Anticipate how much you'll spend on your future home or apartment.
Your rent and mortgage are determined by a range of factors. Square footage, location, and amenities all affect rent and home prices.
If you're moving for the first time, you may not know how much rent is too much. A good guideline is to avoid spending more than 33% of your take-home pay on rent if you want to ensure the cost will be sustainable.
Many landlords make new tenants pay first and last month's rent before moving in, often keeping one as the security deposit. Depending on your lease agreement, the security deposit may be refunded after you move out.
Always double-check your lease's terms, as you may be responsible for other monthly expenses aside from rent such as utilities and maintenance fees. While renter's insurance isn't always required, it may give you much-needed peace of mind in events of emergencies.
Moving out also involves being responsible for more than rent. Depending on where you're going, your cost of living may be drastically different than what you are used to. It's always wise to research where you want to live so you have a better understanding of what you'll be responsible for financially.
As you budget expenses, consider:
Rent or mortgage payments
Moving costs and expenses
Gas
Living expenses, such as groceries
Once you have a general idea of what your expenses will be, you can dive deep and start to create a budget for your anticipated move. SaverLife's free resources can help you get started and earn you some cash along the way.
The average cost of making the move
How much do local moves cost?
According to Zillow, 57% of people selling a home move within the same city, and 86% move within the same state.
One of the expenses associated with moving is trucks and movers. You'll typically pay an hourly rate for local moves. Local or intrastate moves under 100 miles (including two movers and a truck) range from $80 to $100 per hour. Customers typically pay an average of $475 to professional moving companies for local moves.
Here are more estimates:
1-bedroom apartment: 3-5 hours, $240-$500
2-bedroom apartment: 4-7 hours, $320-$700
3-bedroom house: 6-8 hours, $480-$800
4-bedroom home: 8-12 hours, $640-$1,200
How much will I have to pay to move long-distance?
Interstate or cross-country moves over 100 miles are usually $2,000-$5,000 per move. Local moving companies usually charge per hour, but for a cross-country move, you'll likely be charged based on weight and distance.
Most movers give you an estimate before signing a contract using average weights for homes of your size. Zillow estimates the following weight averages depending on the size of your home:
1,000-square-foot, 3-bedroom apartment typically weighs about 5,000 pounds
2,800-square-foot, 4-bedroom home weighs approximately 20,500 pounds.
Because the cost of your move can be affected by so many factors, most movers offer estimates based on your particular needs relative to time, distance, and weight.
Estimates may be different from your total cost, so you should ask your movers for a "not-to-exceed" estimate, which details the maximum billable amount of your move.
Moving trucks
Transporting your things can happen in many ways.
Some services offer trailers and pods to pack up and ship out. These are usually transported by drivers. If you don't need to move an entire truckload of stuff, you can also opt for cheaper options like moving van rentals or trailer rentals. You'll be able to drive these yourself without a special license.
How far in advance should I schedule a moving company?
Try scheduling movers for a local move two to four weeks in advance. The earlier you schedule, the more likely you are to be scheduled for the time and day you want.
The least expensive days to move are Monday through Thursday. In the offseason, typically from October to April, you can often book movers with only one to two weeks' notice, but it's better to be safe than sorry.
For a cross-country move, you'll want to schedule your movers as early as possible — ideally six to eight weeks before your move.
A short shopping list of new-move needs
For some, moving means starting over in a brand new place and with brand new things.
You don't have to go all out at once with a long laundry list of things to buy, but you should be aware of some essentials you may end up spending on so that you can factor those costs into your saving.
Bedding
Mattress, box spring, and bed frame
Towels
Toiletries
Pots and pans
Dinnerware
Cutlery
Cleaning products
Furniture
How to make moving more affordable
Get a roommate
Having a roommate or two makes moving more financially feasible if you're on a tight budget. If you're opting to own, charging rent for spare bedrooms is a great way to make passive income.
Always make sure you and your roommate discuss how the rent will be split and how payments will be made.
If you have extra space in your new place, consider signing up for our SaverPerk Neighbor, which makes it easy for you to make cash by renting your unused space to your neighbors. Sign up for SaverLife to take advantage of our SaverPerks.
Ask friends to help
Because hiring a moving company can be expensive, consider asking friends to help you move. It can help you save loads on movers and might even be fun!
Ask your friends as early as possible and provide lunch and drinks for them. Promise to return the favor when the time comes, and make sure your friends know how grateful you are for their help.
Try thrifting and DIYing
If you're worried about the cost of furnishing your new home, this may be for you!
Online marketplaces, thrift shops, and antique sales all have unique finds for low prices. You may even find a couple of unreal deals on pieces that just need a little extra love.
Finding inspiration for thrifted spaces isn't hard, and plenty of accounts on Instagram and TikTok feature content on how to do so on a budget.
Anticipating what you want or need ahead of time can help you save up to create your dream space and may even present the opportunity to collect what you need over time.
Get estimates
Getting estimates is an easy way to lower moving costs. Prices vary widely among moving companies, so get several before deciding which moving company to go with, so you can get the best offer.
In-home estimates are your best bet because online and phone estimates tend to be unreliable.
A moving company representative will come to your home and take an inventory of the stuff you're moving. They'll note potential difficulties that could cause your moving costs to be higher. It will help you keep track of spending and allow you to avoid expensive surprises.
Move during the off-season
Moving during the off-season, which typically is the time between October and April, can save up to 20% on moving costs. If you can't do this, another good option is to move during the middle of the month.
Get rid of clutter
It pays to do a little downsizing before hiring a mover. Go through what you have and try to donate or sell what you don't need.
Because a moving company bases its rates on the weight of your stuff, this can save you hundreds of dollars in moving costs.
Do the packing yourself
You can save money on moving costs by packing things yourself instead of paying someone to do it.
Become financially independent wherever you are with SaverLife
At SaverLife, we reward you with points every time you take steps towards developing better saving habits. For example, reading informative articles written by our team of certified financial experts, using our budgeting tools, and logging in to your account to see your progress all result in getting points.
You can redeem these points for the chance to win cash prizes.
Get started on cultivating excellent savings habits by checking us out today!
Take Charge of Your Savings
Earn rewards for creating a brighter future