Andrea's Story: Money is About Having Options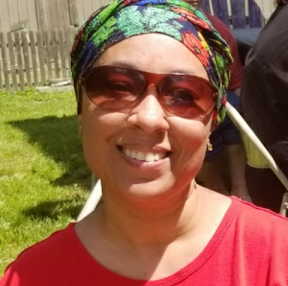 Meet Andrea, who lives in Connecticut and loves video game memorabilia.
What do you do?
I'm not employed at the moment. I have been employed in the past, but it's been a while. At the moment, I'm trying to figure out some things before diving back into employment.
What did your upbringing teach you about finances?
My parents definitely made a lot of mistakes, so in some ways I learned what not to do, in terms of saving more than you spend and pay things more on time. It made me look at what you should do better, more than what to proactively do.
I saw a lot that wasn't a good example. Some of that was them not knowing or not being in a good situation. It's surprising in retrospect because my mom worked at a bank.
What's one thing you know about money now that you wish you knew when you were younger?
It really does create options when you have money. It opens doors. When I was younger, I was living more in the moment and not seeing the future, not seeing that you need to set aside a lot of money.
I did save and budget to a certain extent, which has kept me afloat lately. But I had more of a desire to just get what I wanted then.
There were also just some things that I didn't know – for example, that there are some bank accounts that give you more interest. I didn't know about that, that my money could be earning more interest over time without me doing anything. I didn't think about the long-term implications of that.
The other thing that I knew nothing about, even though I had the option, was creating an investment account. I thought, "That's an extra thing. I don't need to do it."
What have been the highest and lowest financial points in your life?
The past couple of years since my divorce have been my lowest. My highest was when I was married. My husband made a decent living and I didn't have to think about that or worry about it. We worked well with what he had and were able to support ourselves and our child, who's now an adult.
If I had seen ahead, I would have saved more while married or kept a part-time job. I never saw myself in the position I'm in now.
What's the best piece of financial advice you've received?
It goes beyond "pay yourself first." Save more than you spend. Don't spend more than what's necessary. If you don't need it, don't get it. Your priorities should be all about saving.
Any spending that you do, can you get it cheaper? Can you wait? Can you just not get it?
I wish I had had that mindset always, not about instant gratification. I wish I had given purchases more thought.
Now I look at some items I have, and I think, "that could have been money in the bank compounding interest."
Are there any purchases you've made that you still think are good even with that mindset?
Yes and no – it's conflicting. There are some things that I still have and enjoy, so I am getting pleasure out of them.
For me specifically, this might be a silly or unexpected answer, but I have been a collector of video game memorabilia. That was where a lot of my money has gone – not shoes or clothes that you might think a lot of women want.
On one hand, I maybe shouldn't have made those purchases, but they do make me happy. And I've been able to make money back when I sold some of them. It was fun to meet other collectors when I was selling and connect with other people who have similar interests.
I guess my advice would be not to give up your interests or cut it out of your life, but be thoughtful about what you actually want.
At my age, I'm still really interested, but I need to really cut back. I feel okay about cutting back. Less can be more.
What are your goals for the future?
I'm trying to figure out how to be on my own because this is new. I went straight from my parents to being married. I'm trying to figure out how to be alone at this age with my adult child living away from me.
What does money mean to you in your life?
It means options or lack of them.
Take Charge of Your Savings
Earn rewards for creating a brighter future